By Tian Sun, PhD, at Chinese Antibody Society; Minhua Chu, Danni Yin at PharmaDJ

Introduction
We are excited to announce the continuation of our collaboration with PharmaDJ, a leading trade media publishing house and consulting firm. We will continue to provide comprehensive analysis and reports about therapeutic antibody licensing deals between Chinese biopharma and overseas companies.

In this third business report on this topic, we focus on licensing deals closed in 2022. A detailed summary of 2021 antibody licensing deals closed can be found in our first and second business reports [1, 2].

In 2022, 30 antibody deals were closed for a total value of approximately $24 billion in upfront and milestone payments (10 in-licensing & 20 out-licensing deals, Table 1). Total of 45 assets at various stages of development were included in these deals, including ten approved products (Figure 1).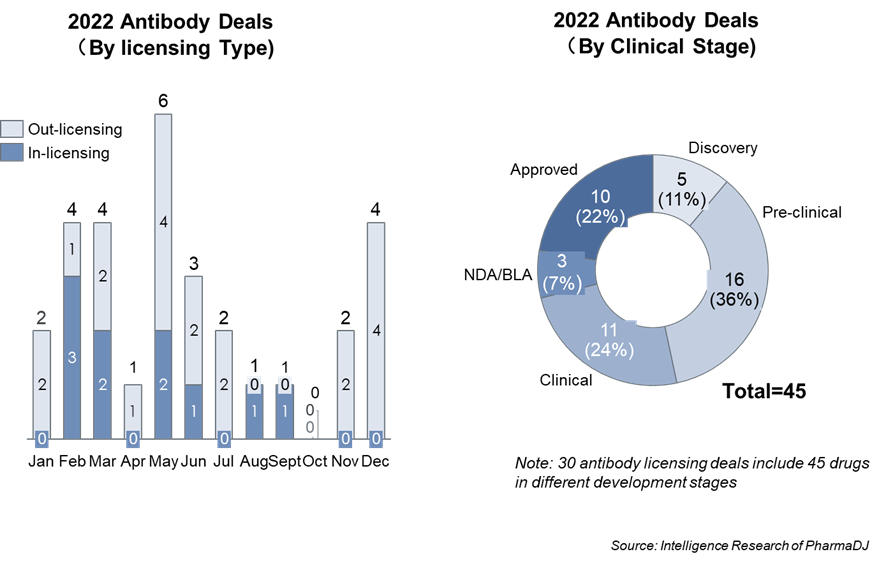 Figure 1 Overview of antibody deals closed in China in 2022 (Data source: PharmaDJ)

2022 was a "bear-market" for biotech rife with bankruptcies and lay-offs. In June of 2022 the NASDAQ Biotechnology Index (NBI) had fallen nearly 60% from its September 2021 peak [3]. Even in such an unfavorable environment, in 2022 Chinese biotech companies closed 20 out-licensing deals worth $21.5 billion, thus doubling the value of 2021 deals (Table 1). In contrast, 2022 in-licensing deals shrunk in terms of number, upfront payments and total payments (Table 1). These numbers suggest that the value of antibody R&D from Chinese biotech is increasingly being valued by oversea partners. Furthermore, it indicates that the Chinese biotechs have matured from "me-too" drug developers to genuine innovators.

Table 1 Antibody Deals Closed in China (2021 vs 2022)




Highlights from Out-licensing Deals

Kelun and Merck mega-deals

In 2022, Kelun-Biotech inked three antibody drug conjugate (ADC) deals with Merck worth $11.8 billion (Table 2). The asset of the first deal was SKB264, a Trop2 ADC developed by Kelun.

Table 2 Top out-licensing antibody deals closed in China (2022)




Trop2, or trophoblast cell-surface antigen 2, is overexpressed in many types of solid tumors. Elevated expression of Trop2 is often associated with invasion/aggression, progression, and metastasis of many different tumor types. Trop2 was validated as a valuable ADC target after Gilead acquired Immunomedics, the developer of Trodelvy (Sacituzumab govitecan), for $21 billion in 2020 [4]. In 2021, Trodelvy, the first-in-class Trop2 ADC, was approved by the US FDA for the treatment of triple negative breast cancer [5]. Recently, Trodelvy was approved by the FDA to treat metastatic hormone receptor (HR)-positive, human epidermal growth factor receptor 2 (HER2)-negative breast cancer [6].

SKB264 from Kelun was developed using 2-methylsulfonyl pyrimidine as the linker to conjugate belotecan-derivative topoisomerase I inhibitor. Preclinically, compared to Trodelvy, the SKB264 linker stability was significantly enhanced (Table 3) [8]. Moreover, at the same dose, SKB264's exposure in tumor tissue was 4.6-fold higher than that of Trodelvy in vivo [8]. In an on-going phase 2 trial on metastatic triple negative breast cancer, SKB264 exhibited better median progression-free survival (PFS) and median overall survival (OS) compared to Trodelvy at a much lower dose [5], [9] (Table 3).

Although a head-to-head clinical trial comparison of SKB264 and Trodelvy has not been performed, the preliminary clinical data indicates SKB264 is a better Trop2 ADC.

Table 3 Comparison of SK264 with Trodelvy




Akeso's bispecific antibody Ivonescimab

In Dec. 2022, Summit Therapeutics agreed to in-license Akeso's Ivonescimab (AK112) for an upfront payment of $500 million. The total deal value is $5 billion including milestone payments [10]. AK112 is a humanized IgG1 bispecific antibody targeting PD-1 and VEGF and was developed with Akeso's own proprietary bispecific antibody platform Tetrabody. AK112 is believed to be the PD-1 / VEGF bispecific antibody that is most advanced in the clinic [10].

Targeting PD-(L)1 and VEGF simultaneously is a rational design.

1) The combination of VEGF and PD-(L)1 inhibitors promotes antitumor immunity by enhancing T cell recognition and recruitment, reprogramming the tumor micro-environment (TME) from immunosuppressive to immunostimulatory, and restoration of T cell killing [11].

2) Combination therapies involving PD-(L)1 and VEGF inhibitors is de-risked in that there is already the approval of the treatment, for selected patients, with metastatic non-small cell lung carcinoma (NSCLC), advanced renal cell carcinoma, advanced endometrial carcinoma and unresectable hepatocellular carcinoma (Table 4).

3) Simultaneous blockade of VEGF and PD-(L)1 by AK112 as a single agent may achieve higher target binding specificities and synergistically produce enhanced anti-tumor activity compared to co-administration of anti-PD-(L)1 and anti-VEGF therapies [Akeso corporate presentation].

When tested in clinical, AK112 demonstrated a good safety profile and was well tolerated. AK112 showed a good efficacy when tested in multiple oncology indications. Moreover, AK112 has received Breakthrough Therapy Designation status in China from the National Medical Products Administration (NMPA) for three indications.

Table 4 Summary of PD-(L)1 inhibitor plus VEGF inhibitor in approved indications




Growing interest in the Claudin18.2 target – Harbour BioMed's T cell engager bispecific antibody

Claudin-18.2 (CLDN18.2) is a tetraspan membrane protein involved in the formation of tight junctions. The protein is highly expressed on the surface of several tumor cells, particularly in gastric cancer. It is estimated that CLDN18.2 is expressed in the tumors of 50–80% of gastric cancer patients. Since China has a huge population of gastric cancer patients, Claudin18.2 is a target highly desired by many Chinese biotech companies.

IMAB362 (Zolbetuximab) developed by Ganymed Pharmaceuticals was the first-in-development and is the most-advanced anti-CLDN18.2 antibody. It was estimated that Zolbetuximab could have peak sales >$1 billion, compared with Herceptin's estimated peak sales of $402 million USD for the gastric cancer indication [12]. This led to Astellas' acquisition of Ganymed in 2016. Recently, Astellas reported Zolbetuximab met primary endpoints in a phase 3 trial as the first-line treatment in Claudin 18.2 positive, HER2-negative metastatic gastric and gastroesophageal junction (GEJ) cancers [13]. Zolbetuximab is also on the list of "antibodies to watch in 2023" published by mAbs [14].

AstraZeneca paid $25 million upfront and committed up to $325 million in development, regulatory and commercial milestones to land the global rights to HBM7022, a bispecific antibody designed by Harbour BioMed to simultaneously bind CLDN18.2 and CD3 [15].

HBM7022 was generated from Harbour BioMed's HBICE® Technology. According to Harbour, HBM7022's 2+1 format provides this bispecific antibody with better activities and a potential larger therapeutic window. HBM7022's low CD3 affinity and high claudin18.2 affinity reduce the risk of developing cytokine release syndrome and increase antibody distribution to TME. Moreover, the Fc portion of HBM7022 is silenced, giving HBM7022 extended half-life and preventing Fc crosslinking and antibody-dependent cytotoxicity.

Harbour BioMed was spotlighted in Fierce Pharma's "10 biotechs to know in China" in 2020 [16]. Dr. Jinsong Wang, Harbour BioMed's founder and CEO, is a Board member of the Chinese Antibody Society.
Innovent Biologics is also developing a Claudin18.2 T cell engager (IBI389). It will be interesting to see whether arming an anti-Claudin18.2 antibody with a T-cell engager perform better (better efficacy and toxicity) than anti-Claudin18.2 antibody alone in the clinic.

Growing interest in the Claudin18.2 target – LaNova Medicines' ADC

LaNova Medicines out-licenced its LM-302, a Claudin18.2 ADC, to Turning Point Therapeutics for an upfront payment of $25 million and $195 million milestone payments [17].

TPX-4589 (LM-302) is comprised of a recombinant humanized anti-CLDN18.2 IgG1 monoclonal antibody (LM-102) coupled with cytotoxic payload monomethyl auristatin E (MMAE). TPX-4589 suppresses cell proliferation of gastric and pancreatic cell lines with nanomolar potency in preclinical models. It also has demonstrated efficacy in gastric and pancreatic cancer xenograft models.

In addition to anti-Claudin18.2 monoclonal antibodies, T cell engager antibodies and ADCs, and other modalities are also being investigated preclinically and clinically. For example, Anti-Claudin18.2 CAR-T developed by Carsgen Therapeutics is in phase 2 clinical trials for the treatment of Claudin18.2-positive pancreatic adenocarcinoma [18]. Claudin 18.2 x 4-1BB bispecific antibody developed by I-Mab is in phase 1 trials for the treatment of solid tumors [19]. Carsgen Therapeutics is also evaluating its anti-Claudin18.2 monoclonal antibody in combination with Roche's atezolizumab (anti-PD-L1 antibody) for treating gastric cancer [20].

Antibody platforms- Adagene's SAFEbody

Adagene and Sanofi had a licensing agreement where Adagene will develop a masked version of Sanofi candidate antibodies using Adagene's SAFEbody technology. Adagene will receive an upfront payment of $17.5 million and up to $2.5 billion milestone payments [21].

SAFEbody is Adagene's proprietary antibody masking technology. It enables an antibody to bind its target specifically only after conditional activation of the antibody in target tissues. This technology is designed to improve safety and tolerability of antibody therapeutics while maintaining clinical activity.

In addition to the deal made with Sanofi, Adagene had a deal with Exelixis in 2021, where Adagene would generate masked version of Exelixis's candidate antibody drug conjugates. Adagene received an upfront payment of $11 million from Exelixis [22].

Highlights from In-licensing Deals

Ten in-licensing deals were closed in 2022. This number is only half of the deals closed in 2021 (Table 1). Among the ten deals, four are ADC products and six are naked antibodies.

Huadong Pharma

Huadong Pharma closed two in-licensing deals: one each with Heidelberg Pharma and Kiniksa Pharmaceuticals.

Huadong will pay Heidelberg $20 million upfront and up to $449 million in milestones for the exclusive development and commercialization rights to HDP-101 and HDP-103 throughout much of Asia [23]. Heidelberg is famous for using the active ingredient Amanitin from the death cap mushroom in their ADCs.

Amanitin works by inhibiting RNA polymerase II, which results in apoptosis. While other ADC payloads depend on cell division, RNA polymerase II inhibition offers the possibility of breaking through drug resistance or destroying dormant tumor cells.

HDP-101 is a BCMA-targeted drug in a phase 1/2a study patients with multiple myeloma. GlaxoSmithKline's anti-BCMA ADC, Blenrep, gained FDA's accelerated approval in 2020 [24]. However, GSK voluntarily withdrew Blenrep given that its phase III confirmatory trial failed its endpoints in 2022 [25]. Other BCMA targeted therapy that was approved by the FDA is BMS and Bluebird bio's Abecma, which is a CAR-T therapy.

SciNeuro

Alamar Biosciences and SciNeuro agreed to collaborate on multiple programs to discover and develop novel therapeutic antibodies for targets selected by SciNeuro within the field of neurological diseases, based on

Alamar's Attobody™ platform [26]. Attobody™ is Alamar's novel antibody engineering platform consists of a proprietary design framework and an efficient discovery process that yields picomolar affinity antibodies with built-in high specificity.

SciNeuro is founded by Dr. Min Li who has extensive experience in the CNS diseases field. In January 2023, the US FDA approved Eisai and Biogen's lecanemab for patients with Alzheimer's disease. This is the second antibody approved for Alzheimer's disease that targets the fundamental pathophysiology of the disease [27]. The approval of lecanemab and aducanumab encourage drug makers of CNS diseases to develop new and better drugs for neurodegenerative diseases. Although SciNeuro's CNS drug pipeline is still early (pre-clinical), we look forward to seeing their assets' favorable performances in upcoming clinical trials.

(Edited by Irwin Hirsh)


Acknowledgement
The authors would like to thank Dr. Shouye (Shawn) Wang for providing valuable suggestions.

References
1. Therapeutic Antibody Licensing Deals in China: a 2021 Mid-Year Summary
2. Therapeutic Antibody Licensing Deals in China: a 2021 End-of-Year Summary
3. NASDAQ Biotechnology (NBI)
4. Gilead Sciences to Acquire Immunomedics
5. FDA grants regular approval to sacituzumab govitecan for triple-negative breast cancer
6. FDA approves sacituzumab govitecan-hziy for HR-positive breast cancer
7. Liu, Y., et al. (2020). "SKB264 ADC: A first-in-human study of SKB264 in patients with locally advanced unresectable/metastatic solid tumors who are refractory to available standard therapies." Journal of Clinical Oncology.
8. Cheng, Y., et al. (2022). "Preclinical profiles of SKB264, a novel anti-TROP2 antibody conjugated to topoisomerase inhibitor, demonstrated promising antitumor efficacy compared to IMMU-132." Front Oncol 12: 951589.
9. 2022 SABCS | Kelun-Biotech TROP2-ADC (SKB264, MK-2870) Phase 2 Study Poster
10. Summit Therapeutics Partners with Akeso Inc. in Deal for Up to $5 Billion to In-License Breakthrough Innovative Bispecific Antibody
11. Kudo, M. (2020). "Scientific Rationale for Combined Immunotherapy with PD-1/PD-L1 Antibodies and VEGF Inhibitors in Advanced Hepatocellular Carcinoma." Cancers (Basel) 12(5).
12. Ganymed's IMAB362 to bring hope to gastric cancer patients, says GlobalData
13. Astellas Announces Zolbetuximab Meets Primary Endpoint in Phase 3 SPOTLIGHT Trial as First-Line Treatment in Claudin 18.2 Positive, HER2-Negative Locally Advanced or Metastatic Gastric and Gastroesophageal Junction (GEJ) Cancers
14. Kaplon, H., et al. (2023). "Antibodies to watch in 2023." MAbs 15(1): 2153410.
15. Harbour BioMed Announces Global Out-License Agreement with AstraZeneca for CLDN18.2xCD3 Bispecific Antibody HBM7022
16. 10 biotechs to know in China
17. Turning Point Therapeutics Announces Pipeline Expansion, Licensing of TPX-4589 (LM-302), A Clinical Stage Anti-Claudin18.2 Antibody Drug Conjugate for Gastrointestinal Cancers, From Lanova Medicines
18. CARsgen Therapeutics Presents Updated Data for CT041 Claudin18.2 CAR T-cells in Solid Tumors at ASCO 2022
19. I-Mab Announces First Patient Dosed in Phase 1 Clinical Trial of Claudin 18.2 and 4-1BB Bispecific Antibody TJ-CD4B in Solid Tumors in China
20. CARsgen Announces Collaboration Agreement to Evaluate AB011 in Combination with PD-L1 Checkpoint Inhibitor to Treat Gastric Cancer
21. Adagene Announces SAFEbody® Multi-Target Collaboration with Sanofi for Novel Masked Immuno-Oncology Antibody Candidates
22. Exelixis and Adagene Enter into Collaboration and License Agreement to Develop Novel Masked Antibody-Drug Conjugate Therapies with Improved Safety and Efficacy Profiles
23. Huadong buys into Heidelberg, signs nearly $1B deal to gain access to four cancer assets
24. FDA approves GSK's BLENREP (belantamab mafodotin-blmf) for the treatment of patients with relapsed or refractory multiple myeloma
25. GSK provides an update on Blenrep (belantamab mafodotin-blmf) US marketing authorisation
26. SciNeuro Pharmaceuticals and Alamar Biosciences Collaborate to Discover Novel Therapeutic Antibodies for CNS Diseases
27. FDA Grants Accelerated Approval for Alzheimer's Disease Treatment